See Your Moving World
Our RTLS software is designed to give you the tools to configure your system with precision and to provide the data insights and reports to help you make the most informed decisions about your operational processes and performance.
Plus, our open architecture enables seamless integration into third-party systems, so you can leverage location data in your preferred management system.
Define location coverage based on actual floor plans
Manage users, zones, and trackables throughout your facility
Real-time visualization of your entire environment
See activity, roadblocks, interactions, and near-miss events
Powerful reporting on what matters
Use analytics, reports, and dashboards for discovering inefficiencies and reviewing forensic data
Cloud-based or on-premises
Choose your preferred server hosting
Open API connects with any platform
Our system is built to integrate with third-party systems for data integration and management
Our RTLS Software Solutions
---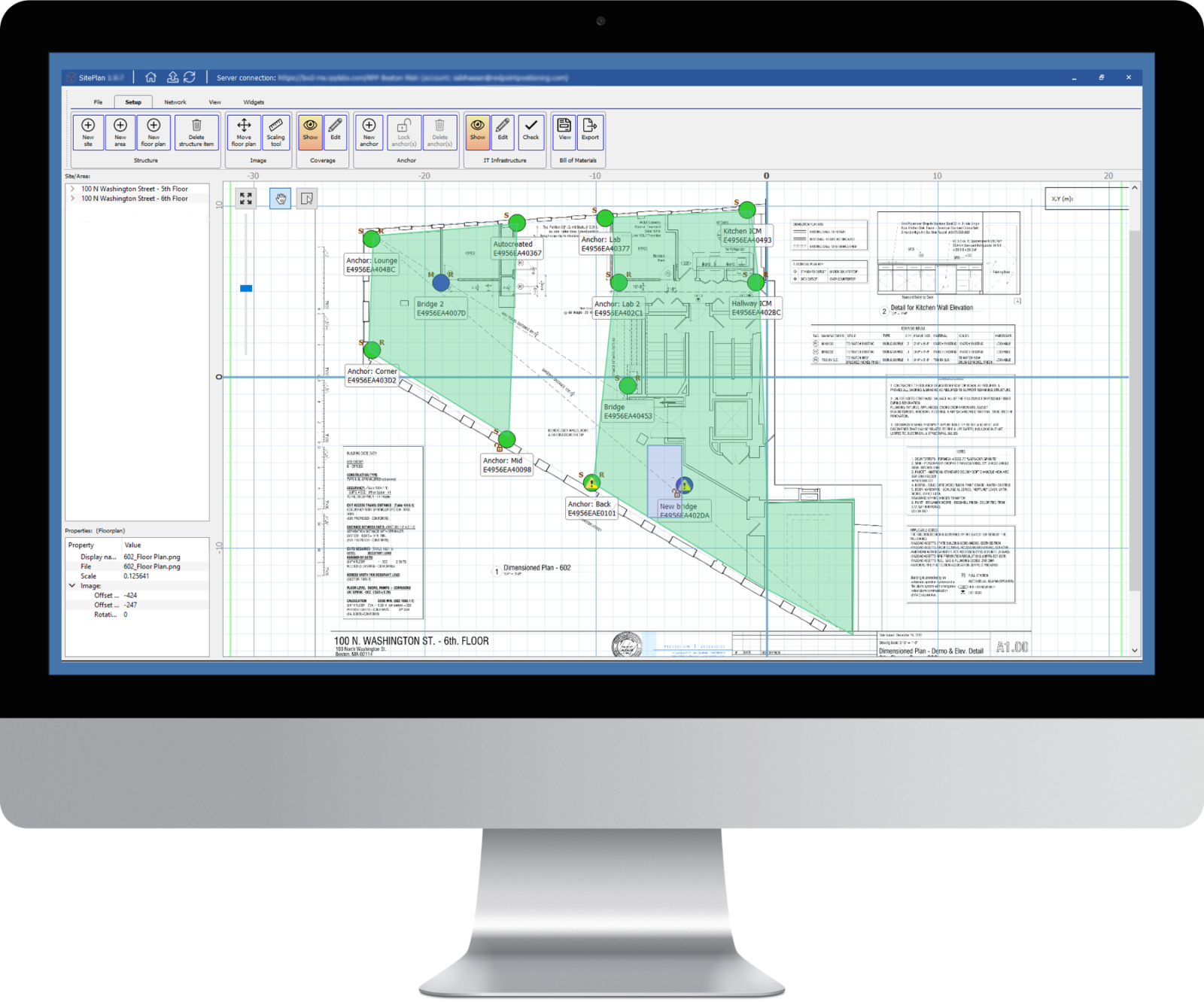 SitePlan
Our RTLS server software, SitePlan, can be hosted in the Cloud or on-premises. Use SitePlan to define your location coverage based on actual floor plans and optimize the system for high precision and low latency performance. Define and manager users, zones, and trackables while managing the network and your hardware devices.
Easy to navigate and flexible when you need to make changes, SitePlan is the planning powerhouse to get your facility connected.
SiteWise
Our application RTLS software, SiteWise, empowers you with real-time visualization of your entire facility. View heatmaps and spaghetti diagrams to track paths and visualize activity, roadblocks, interactions, and near-miss events. Manage all location data, alarms, and events in one place, and use data reports and dashboards to discover inefficiencies or analyze incidents.
SiteWise turns live positioning information into actionable safety alerts, site monitoring dashboards, and the analytics to improve your facility's performance.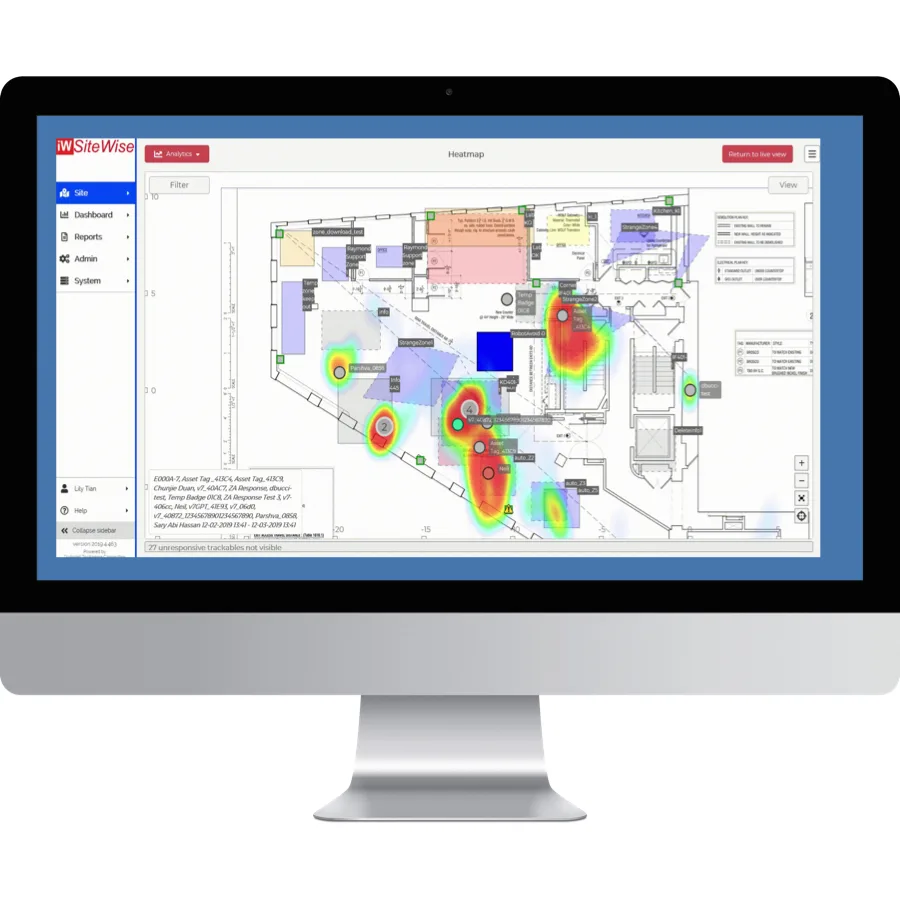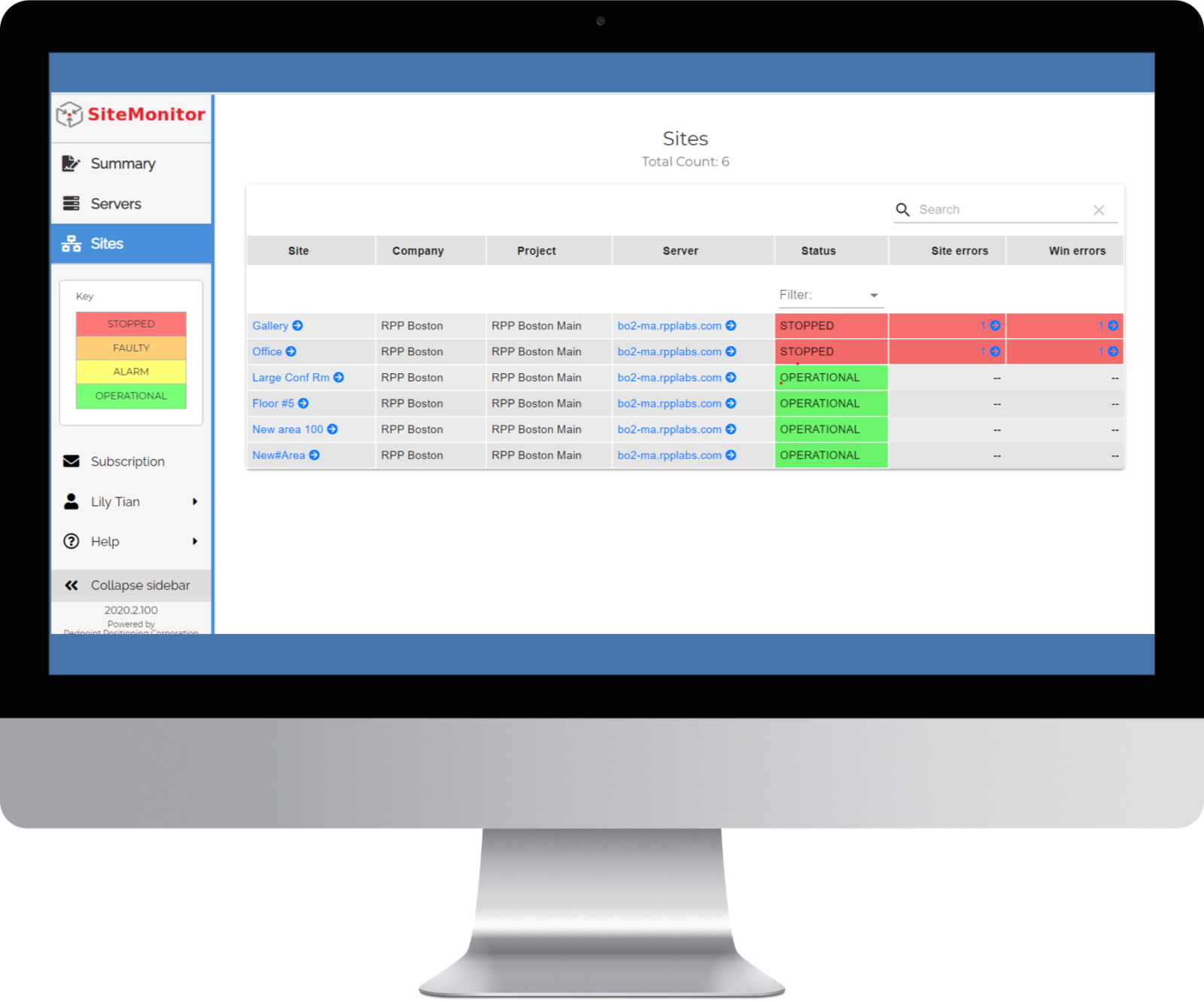 SiteMonitor
SiteMonitor ensures the system is operating properly at all times and delivers real-time notifications to your IT Manager should an issue occur. The tool monitors both the Wireless Infrastructure Network (WIN) and the server modules.
With convenient, real-time messages, the user receives notifications about either component (server or site) based on severity level. Once the malfunction is addressed, the system will clear the status to notify the system that the issue has been addressed.
Open API
Our real-time location system is designed to be the most flexible and configurable system available. Integrate with any existing or third-party system to access data from the RTLS to make the system work for your unique needs.
Develop an Application
Use the representational state transfer (REST) API to develop your own application to manage your RTLS network. Use the WebSocket API to stream real-time location data and event notifications to your application.
Display Your Data
Create a graphic user interface (GUI) or custom reports tailored to your needs.
Create Your Own Solution
Customize your RTLS system in many other ways such as configuring automated messages to send to badges or setting up geofencing that is responsive to your dynamic operations.
Continuous Improvement
We're constantly innovating to lead the connected future. Below are some of the patented technology we've created to give you the most reliable, accurate data available.
Patented TDoA scheme
Patented NLOS compensation
Patented multi-tiered positioning
Patented Protocol stack for networking and data communication
Self-organizing, self-healing full wireless infrastructure
With additional patents pending and development underway, we will continue to bring you the most cutting-edge location technology.